SAS Australia 2023: Meet the Recruits (who.com.au)
It's time to lace up your combat boots and dust off your camo, as SAS Australia is officially returning for 2023. 
Under the watchful eye of Chief Instructor Ant Middleton, 14 new recruits, ranging from Olympic champions to reality TV stars, will be thrown into action over 10 brutal days in Jordan's Wadi Rum Desert. 
Speaking on the new season, Ant told Seven, "It's a good mix of recruits this season. There are different strengths and, of course, a few weaknesses that we immediately press on."
Although SAS Australia may be entering its fourth season, Ant shares that the recruits should not assume that their journey will be any easier. 
"That's exactly how we want them to think because that assumption is the mother of all failings. We are always upping our emotional and psychological game. This series is no different."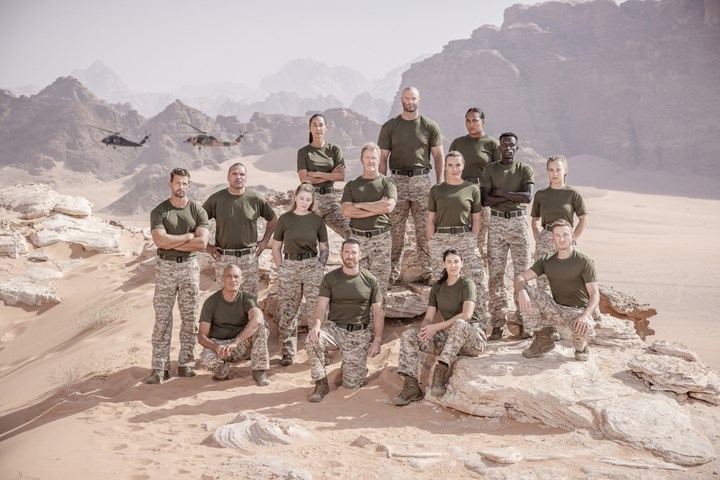 With over 4,000 rounds of blank ammunition, 76 smoke grenades, and 25 kilograms of C4 explosive, the 2023 season of SAS Australia is set to be one of the most dramatic to date. 
As the recruits prepare to battle their way through the series of extreme challenges, scroll down to find out everything you need to know about SAS Australia 2023. 
When does SAS Australia 2023 start? 
SAS Australia 2023 premieres on Monday, October 9, at 7:30 p.m. on Seven and 7Plus.
Who is the cast of SAS Australia 2023?
What did you learn about yourself through this experience?
"I've always felt like that high-achieving, super resilient, competitive part of myself stopped when I stopped swimming. The course showed me that that girl is still within me. She just needed a vehicle and experience to come out again. I am forever grateful for my time on the course."
What did you learn about yourself through this experience?
"I learned I am strong. Incredibly strong. I really need to stop doing things to prove my strength to others. My talent, skill, and strength know no bounds. I now know this in my soul."
Was SAS Australia more or less challenging than you expected?
"More challenging. I felt like everything was so full-on. Mentally, you had to be prepared to be on the go at any time. The whole environment was tough; the heat, sand dunes, challenges of the course, and doing brutal tasks back to back."
What did you learn about yourself through this experience? 
"That the mind is a capable tool and when aligned with the body, I'm capable of great things."
How would you describe your experience on the course?
"Traumatic. It was a rude awakening. Even though I had mentally prepared so much, nothing prepares you for the constant state of gruelling stress, fear, and anxiety the DS create. The challenges are one thing, but the daily anxiety is a whole other weight that takes its toll."
What were the hardest things about the SAS process for you?
"The sleeping arrangements, and knowing that you could be beasted at any time of the night. You always had to have everything ready to go." 
Would you ever compete on SAS Australia again?
"Sure. I would love to have another opportunity. Now that I've faced the demons of my past, I know that I can work through them. I would love to go back into the course and show them the real Cassie." 
When did it hit home that this course was 100% real?
"At the precise moment Ant Middleton and his merry men jumped out of helicopters that had been hovering over us; sandblasting us out in the middle of the desert. They raced over to us screaming, shoved us down in the scorching sand, bagged our noggins, and double-timed us through the dunes to waiting graves!"
Would you ever compete on SAS Australia again? 
"I don't know. Part of me says, 'ticked that one off and move on to the next thing,' but I also feel it would be good to have another go." 
What training did you do in preparation for the course?
"I did a combination of functional training, hot Pilates, and lots of hiking with a 12-kilogram backpack on. I even started running for the first time. I had only seen roughly 10 minutes of the show before, and wished I had trained more specifically for the show's needs."
They call SAS the toughest test. Do you agree?
"I do. The DS are clever. They don't just flog you so hard that you quit. That would be too easy. They flog you to the edge of breaking physically, mentally, and emotionally. They know when you're right at the edge and they hold you there day after day after day. I've never been so drained."
Was SAS more or less challenging than you expected?
"It was much harder than I expected. You enter that environment knowing it will be tough and certainly a grind, but it exceeds all expectations."
Why did you want to enlist in SAS Australia?
"I saw it as a challenge. I'm pretty good physically, but I also though it would be a good mental test. It was good to get out of my comfort zone."
Did anything about the SAS Australia experience surprise you?
"Yes. Getting buried alive in the coffins was more than I ever expected."